If you follow my blog you will have noticed that I am keen on recycling.  I recently set myself a scrap pot challenge -to design and produce a piece of handmade silver jewellery using only my scrap pot contents.  I outperformed and made 4 delicate silver rings and 2 pairs of beautiful textured silver earrings!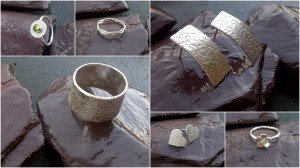 Now recycling and reusing is common place in everyday life, so why are we still making so much of our silver jewellery out of newly mined silver?  Mining negatively impacts the environment, workers and surrounding communities, so it makes sense to reuse what we have already dug up right?
Although it makes perfect sense until now it has been really difficult to source a supplier of eco-friendly silver for jewellery making in the UK.  Recently Cookson Gold started to supply eco gold, and now *HURRAY* they are about to do the same with silver.
I will continue to use recycled silver in my handmade jewellery as much as possible, and think the scrap pot challenge will become a regular event – and your comments on some design themes for that challenge would be very welcome!
I'm looking forward to sharing my greener handmade silver jewellery with you!