Everything you need to know about a Hallmark
So, if the scandal of horsemeat masquerading as beef in recent weeks has taught us anything it is that what we buy may not always be what it claims to be…… The idea of testing and guaranteeing the quality of a product is not a new idea – it has been around since 1300 in the form of hallmarking! The Goldsmiths' Company have been testing and guaranteeing the purity of gold and silver in London for the last 700 years. The name hallmarking derives from the practice of taking the items to Goldsmiths' Hall for marking. I have my handmade silver jewellery hallmarked at Goldsmiths' Company Assay Office, and there are a further 3 Assay Offices in the UK which do this work – Birmingham, Sheffield, and Edinburgh, each with their own unique mark.
Any item of silver weighing over 7.78g needs to be hallmarked by law, if it is being described and sold as a precious metal. 7.78 g is not very much – as a guide, a small sachet of baking yeast weighs 7g. A full hallmark comprises of: • The maker's unique mark usually 2 or 3 initials • The metal fineness –sterling silver is 925 • The assay office's mark – Goldsmiths' mark is a leopards head • The optional date stamp letter to indicate which year it was hallmarked. The picture below shows my hallmark on a pair of handmade silver cufflinks– this one has 2 extra marks – a lion which is the traditional mark for sterling silver, and the Queen in an oversized crown which was a limited edition mark to celebrate the Queen's Diamond Jubilee Year.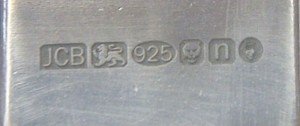 Lucylou Designs' Hallmark
These marks are only applied after rigorous testing of the metal by the Assay Office. These are not to be confused with items stamped with 925. The 925 stamp without the Assay Office marks does not mean it is necessarily sterling silver – it just means that someone has stamped it!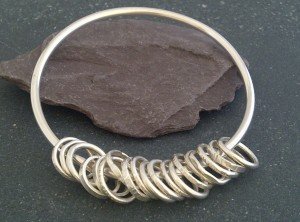 Fully hallmarked handmade silver bangle by Lucylou Designs
I was interested to see an online seller offering handmade sterling silver bangles for sale – they were quite cheap and I was wondering how he could even buy the silver and hallmark it for that price – then I noticed they were only stamped with 925 and his makers mark– he was offering "full hallmarking" as an optional £20 extra! Both naughty and illegal! I only routinely hallmark silver jewellery that is over 7.78g in order to keep the costs down for the customer, this generally means that silver earrings and silver rings, and some smaller silver pendants do not need hallmarking by law, but can be if a customer requests it. The Assay Office even offer an engraving service, so personal messages can be added to special handmade pieces. If you would like to know more about the hallmarking process there is a really good article on it at The Goldsmiths' Company website. Related Blogs Is it really silver? Making the bangle with rings