Over the last week or so I have been *slightly* obsessed with making tiny silver animals. Rather than hand piercing them from silver sheet I wanted them to be more realistic, and a bit more 3d so I decided to have a go!
All too often nowadays people think it's okay to simply make a mould from an item they've bought, and cast a piece from it – which is very simple since the invention of silver clay. Apart from all the copyright issues, where is the skill in that? I decided that my animals were to be made from scratch, all handmade silver, 100% by me.
First off, I started with a sketch of the animal before moving on to make a Fimo model (other polymer clays are available!) Here are the first stages of my silver moongazing hare: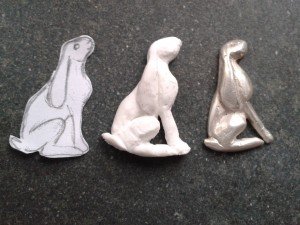 The final silver casting was still quite rough, so I spent many hours filing and sanding to get the contours and appearance right, then after a bit of polishing here's the final result!
I've also added a cute little silver cat to the collection, made in the same way – she'll make a fabulous pin or pendant.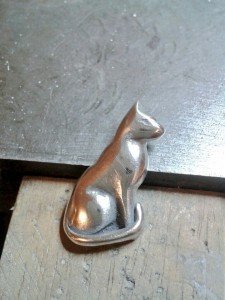 Any requests for more handmade silver animals? I'd love to hear what you think! Jo x