A heartwarming tale about commissioning designer jewellery!
Last year I was asked to design 3 matching silver pendants for 3 sisters. Their Mum wasn't sure exactly what she wanted, she knew she'd like the pendants to make some sort of special design when all 3 were put together, so I came up with these – 3 pendants set with birthstones which formed a heart when they all came together – to represent the bond between the 3 girls.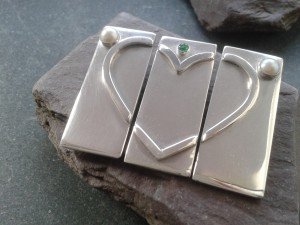 With the design accepted, I made the silver pendants, Christmas Day arrived and everyone was happy! The girls were delighted with their designer jewellery, and their Mum was so excited to have given them a unique gift full of meaning!
Well, with Mother's Day approaching the girls pulled a surprise on their Mum and asked me to make a piece of designer jewellery especially for her. The design mirrors the heart element of their pendants, and is set with opal – her birthstone and engraved on the reverse with their names.
The heart on this pendant matches the heart that the daughters' pendants form – this represents their love for a very special Mum. I have been bursting with excitement over this commission, and have been so looking forward to finally seeing the reaction from the lucky lady herself. Well the waiting is finally over – she has just tweeted me a picture of her pendant on top of all the pendants together – I think she's just a bit of a happy Mum.
So, why not give it a go? You could get your own perfect piece of unique designer jewellery, beautifully made and full of meaning too.