Last week I set myself a recycling challenge – to make a new piece of handmade silver jewellery using only silver from my scrap pot.
Hmmm, how to turn this lot into something nice to wear……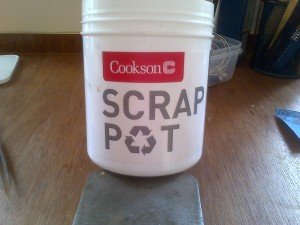 After a good old rummage, I found a few pieces of silver that looked promising and decided to texture them with a spring theme of tiny flowers.
To those of you who know me , it's no surprise that I chose to make rings – (I'm fairly obsessed with them), but instead of my trademark silver cocktail rings, I opted for the spring flowery theme instead.
4 silver rings later and I thought, perhaps it was time for some silver earrings….. again using the same tiny flower texture on them.
I enjoyed my recycling challenge so much, I think I will have to do it again – perhaps next time you guys can suggest a theme for me to work to…?