I've sometimes been accused of being indecisive. There- I admitted it!  In my defence sometimes  I am faced with just too many choices- I have been known to spend a full 5 minutes staring helplessly at the coffee shelf in the supermarket unable to make the final decision over Italian Roast, French full bodied, or Lazy Sunday style coffee.  So you can imagine what I get like when faced with LOADS of beautiful stones to set in rings….
Yesterday, I was faced with such a choice – rhodonite, turquoise, carnelian or rhodocrosite (err, that translates as dark pink, turquoise, orangey red or light pink!!!), and then it came to me – don't decide – make them all, and my new skinny rings were born!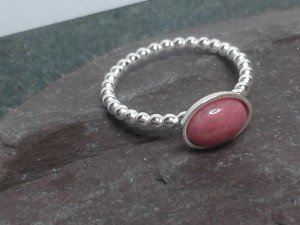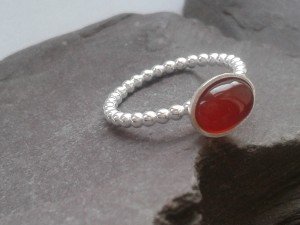 These handmade silver rings are made from sterling silver "pearl" wire which is one of my favourites and makes such a beautiful feature, and topped off with a small (but perfectly formed!) stone – they are definitely my new favourite piece of designer silver jewellery!  I'll be teaming these up with some skinny silver bands, so keep an eye on the blog for news of when these are going into my online shop.
Are there any other colours that you'd like to see these in? (My indecisiveness is creeping in again….!)
The great thing about these rings is that they are skinny enough to stack with other rings, or beautiful enough to wear alone, and will definitely be affordable enough to choose several in different colours – so you see – you don't have to choose just one after all!!!