Hello!  Who needs cheering up? Well, me for a start…. too many dreary dark wet days for my liking, and not enough of the freezing cold sparkly ones that make your spirit soar and your cheeks rosy pink!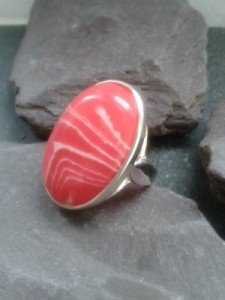 I think there's nothing like a good giveaway to raise the spirits, so I decided that one of my uber-glamorous handmade silver cocktail rings might just do the trick.  There's no catch – one lucky person will be drawn at random from the entrants, and they will win one of these rings made to their ring size, by my own fair hands. I'll even put it in a pretty box and pay the postage.
All you have to do to enter is leave me a comment at the end of this blog – that means I will have your email address, so I can contact you if you are the super duper lucky winner! Closing date for entries is Sunday 16th February at 6pm, and the winner will be notified the following day.  There is no cash alternative to the prize.
So go ahead people – leave me a comment – why not tell me what colour stone you want in your ring if you win? Or even tell me a joke!!!