So, things have been pretty busy here in the run up to Christmas at Lucylou Designs; making orders for lots of lucky people to receive as gifts, and typically this is when I seemed to have lots of inspiration for designs, but no spare time to try them out.
After the last Christmas posting date was past, it was all systems go to make this little chap who I have been looking forward to creating for ages now!  Meet Noel – a little silver hare adorned with 24 carat gold symbols – I made him just in time to celebrate the winter solstice on 21st December.

Noel is made from sterling silver sheet – carefully cut out with a piercing saw, then filed and sanded to refine and perfect the edges.  He was looking pretty handsome at this stage, and then I employed the ancient Korean method of Keum Boo to apply the 24 carat gold symbols to him.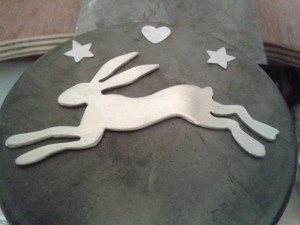 Pure gold (24ct) and pure silver have a similar crystal structure, and so under the correct conditions of heat and pressure it is possible to get them to bond together at a molecular level.  The gold symbols on Noel are applied in this way – so they are not stuck on – they are absorbed into the surface of the metal and become part of it.
Preparing the sterling silver for Keum Boo involves forming a layer of pure silver on the surface – this is done by repeatedly heating and "pickling" the sterling silver in acid – usually a minimum of 7 times. The 24ct gold foil is then carefully applied to the silver, and it is heated to approximately 400 degrees C using a blowtorch.  Now for the tricky bit…. When the silver is upto temperature pressure is applied to the gold foil by rubbing with an agate burnisher until the bonding is complete. I don't have any photos for this part of the process as it takes two hands to do this part – I'll rope in someone to take some snaps next time.
After cleaning the piece up, some jump rings were soldered on to the back so Noel could be hung from a chain. I know I'm biased, but he's such a handsome chap!